About a month ago I received my Brother SE600 machine.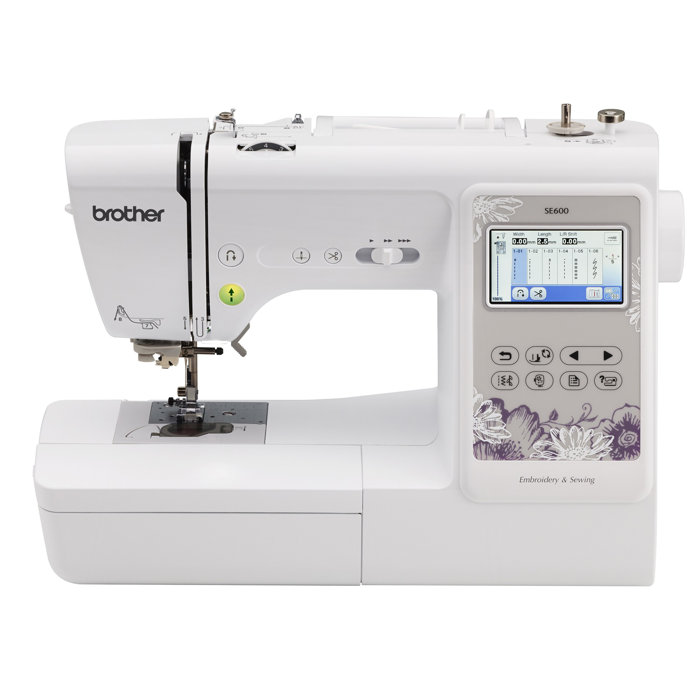 I ordered this as a birthday gift to myself at the end of May. Due to high demand they were back ordered, but I finally got it!
I had been wanting a sewing machine for a while to do projects around the house, then when I found out I could get an embroidery machine combo for just a couple of hundred dollars more I decided to go for it.
I love embroidered and monogrammed things for around the house, and they make great gifts too.
The Set Up
Getting the hang of setting up this machine just takes practice. It comes with a very helpful manual, and I was able to find Youtube videos about how to set up the machine.
When I first started it took a while to change between sewing and embroidery, but now I can do it fairly easily
This video and YouTube channel has been very helpful with learning.
Sewing
I just completed my first sewing project, and the machine is very easy to use.
The digital screen is great and makes it easy to choose your stitch.
Embroidery
Of course, the embroidery function is the one that is more complicated.
I watched a lot of YouTube videos before I even got the machine.
With a lot of trial and error I figure out that your fabric and thread matter a lot. I bought a cheap thread set from Amazon and it got tangled up in my machine and broke.
For a more details on how the embroidery machine works you can visit my post on tips for beginners.
How to Use Designs
One thing I like about this machine is you can upload your own designs through a USB stick.
There are so many cute desings Etsy and Herrington Design
I'm also learning to use Embrilliance Express to utilize fonts to spell out words.
Here are somethings I've done with our monogram.
I've also started to embroider baby items for friends which has been a lot of fun.
This machine does a lot for the price
The ability to embroider things myself is hopefully going to save me money in the future.
I love having things embroidered and monogrammed but it can get expensive fast. This not only saves me money, but I have unlimited combinations to customize it.
Plus I can make custom gifts for family and friends and they love it.
What are your favorite embroidered items? I love monogrammed napkins and towels!