Inspiration
Have you ever seen an image that inspired you so much it gave you a new idea? That is what I felt when I saw this photo on my Instagram feed one day.
I have seen similar concepts before, however, the way this one was set up reminded me of a space we have in our living room.
This image was just so beautiful it really inspired me to see how I could do something like it.
The Space
I have this odd space in our living room that has puzzled me since we moved in. There is a built in bookshelf, then just dead space below it. On the opposite side of the fire place there is a built in desk, so this side stood out as awkward.
I had imagined putting a bar cart there, but then I started to realize it could be so much more. After doing some research for inspiration and ideas and saw the post below.
I have always wanted a wine cooler, and thought how could it would be to be able to somehow embed it into a piece of furniture.
A custom cabinet was out of the question (at least for now) since that would be expensive to buy and we didn't have the proper tools to do ourselves.
I started to shop around for furniture that would fit a small wine cooler. I didn't need anything big, plus the bigger the cooler the more expensive it would be.
Shopping
I started my search by looking at my three favorite places for new furniture online: Target, Wayfair, and Walmart. I had measured my space and knew I wanted the cabinet to be between 40-47″ to look right in the space. Some sites, like Wayfair, make it easy to shop by dimensions which is nice.
A little bit of browsing brought me to this piece at Target. Having built my fair share of furniture, I knew that I could build it and just leave the shelves out, making it the perfect piece to add a wine cooler.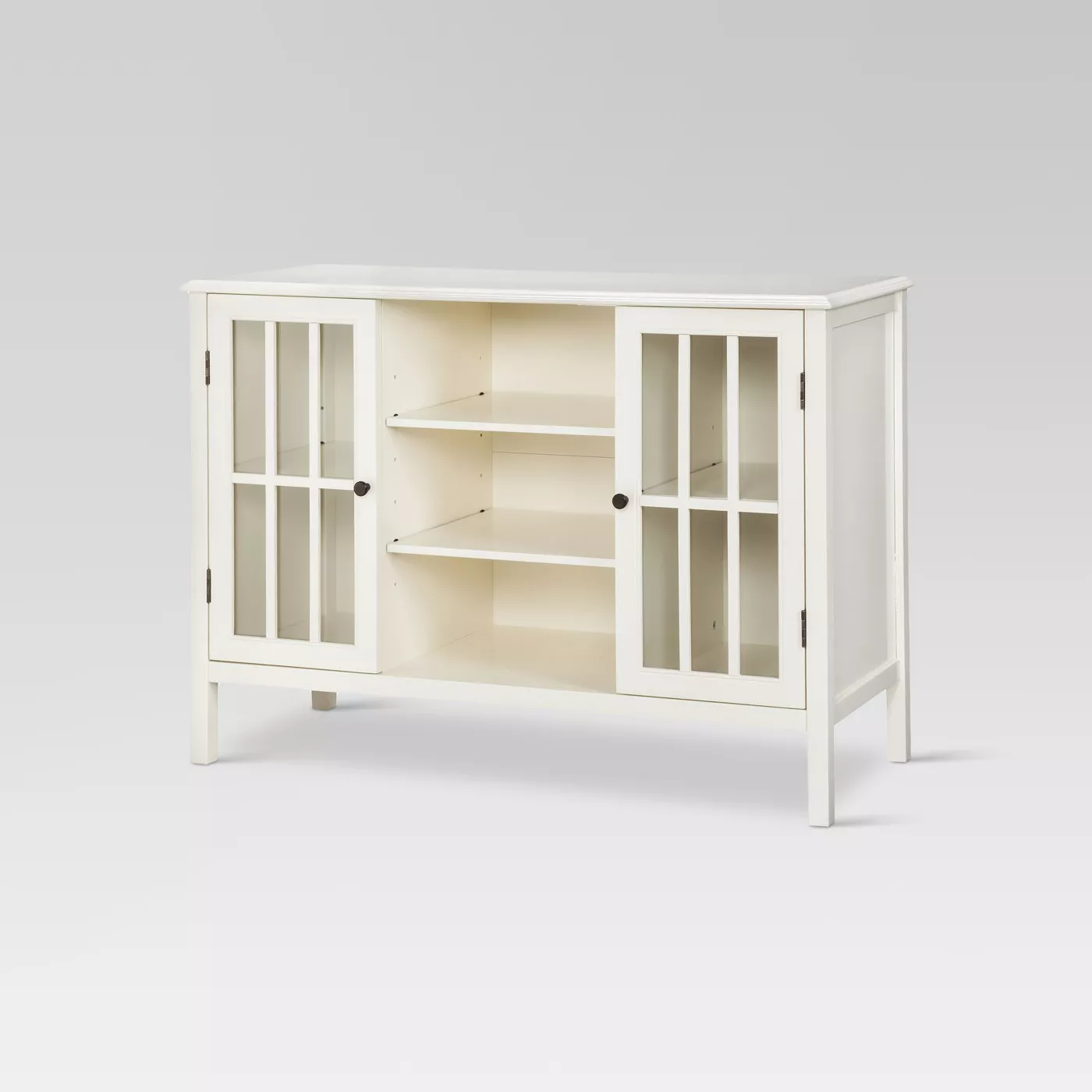 I also really like the glass doors so I could display my nice glassware.
Once I found a cabinet I liked, I had to search for coolers that would fit the right specifications. Thankfully Target listed dimensions for each part of the cabinet so I knew I had to find something 15.7″ x 22.7″ x 15.8″ or smaller.
I found this one on the New Air website that was 14.00″ x 17.50″ x 19.5″ which was slightly too deep. The good news is we had room for it to stick out so that could be fixed. We got it on sale for $135 which is not a bad price for a wine cooler.
The Finished Product
After having to return the first cabinet (it was damaged by Fedex) I got a replacement that looked great. I put it together, and my fiance Jack was able to cut out a hole in the backing that would allow the cooler to stick out in the back. You can't even tell!
I am pretty pleased with how this turned out. It is certainly not the same as the inspiration, but for less than $400, it works for now.
I am continuing to decorate it and the shelves above it but this is a great start. I can't wait to start entertaining friends, this will be the perfect spot to make a quick drink and chat a while.
What do you think? Do you have a bar area in your home?