I love being able to have a space that is 100% mine. I'm a very creative person and so having an office to write my blog and do creative projects in is really valuable to me.
The other great part is that I can decorate it exactly how I want. So all the decor ideas that my fiance doesn't like for the rest of the house can go here.
I didn't have much of a vision for this room when we first moved in. I wasn't even sure how much I would use it. But a week after we moved is when the stay at home orders started and it was apparent that my home office would come in handy. Here is what my office looked like when I first set it up:
The Desk
I had plans to paint the desk for over a year and never got around to it. I thought I would paint it white, but still just wasn't in love with the idea. Until I could figure out what to do with the desk I was really stumped on the rest of the room.
Then my mom told me about Heirloom Traditions chalk paint and after seeing their color "wedgewood" I knew that was going to paint my desk that color. From there ideas started falling into place.
I wrote about my journey painting furniture for the first time here. It turned out really well and looks like a completely different desk.
The Chair
The next priority for me then was a new office chair, because the old leathery, brown hand me down I had wasn't cutting it with my new look. My ideal was a rattan desk chair. I spent hours looking for what I wanted and couldn't really find what I was wanting that was reasonably priced.
One Saturday evening I was scrolling through Facebook Marketplace and found this chair. It was perfect, except I didn't like the black. It was only $10 and worth the chance that I could spray paint it.
Thankfully I was able to take it apart easily and spray the metal parts a metallic gold. I used the Rust-Oleum Universal All Surface Spray Paint in Metallic Pure Gold to paint it.
This chair turned out perfect. It is exactly what I was wanting and it cost less than $30 total.
What's Next
Now that I have my desk and chair the way I want them, I have started to figure out what I want for the rest of the room.
The Walls
Ever since we moved in I had a dream of wallpapering the wall where my desk is. I loved the idea of a beautiful accent wall, and immediately started searching for floral wallpaper. But after a lot of research and talking it over with my fiance I decided it probably was not worth it.
So I decided to paint the walls white to match the rest of the house. Then my mom suggested I look in wall decals. I found this one and fell in love
It is from Royal Design Studio and is the stencil Meandering Rose. I like how intricate it is and has the same feel as wallpaper. I have not bought the paint yet but I imagine having blue and pink flowers, green stems, and blue birds.
The Bookshelf
My next project area was this wall with the bookshelf. I've had this bookshelf for a couple years now and wanted to keep it because it has great storage. I had originally bought the pink bins thinking I was going to do a funky pink office theme, but then things changed. I purchased these hyacinth baskets to give the generic bookshelf a more chic look.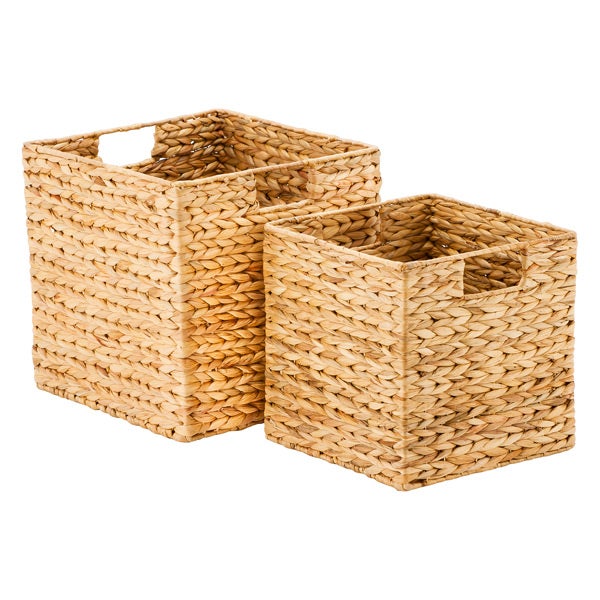 Wall Decor
For above the bookshelf I knew I wanted to do a blue and white plate wall. I saw the one Nicola Bathie McLaughlin has in her dining room and fell in love. Since my fiance won't let me do this in the dining room, I decided to do it in my office.
I was really hoping to find the blue plates for cheap at a thrift store or estate sale, but that has been difficult during coronavirus and since I wanted a more cohesive look I decided online was best.
I usually don't like to buy from Replacements.com, but since I wanted different patterns it did make sense to buy from there to save on shipping. Otherwise I would need to pay shipping for each plate on eBay.
Thankfully I was able to find all plates for under $10 each and got free shipping on my order. I used Paint 3D and Canva to to do a mock up of how the wall would look before purchasing everything.
This ended up costing about $60 with tax and shipping, which is a little more than I was planning to pay but I think it was worth it to pick exactly what I wanted.
The Book Nook
I bought this chair in mid March as a comfortable spot for me to do some work on in my office. I love it because it folds out into a futon and you can sit up with your feet up which is perfect when I have my laptop in my lap.
To add more light to the area, I ordered this sconce to put above the chair.
This rattan sconce is from Overstock and so cute. A look a like to other expensive sconces but for only $60. I plan use a puck light in it so we don't have to wire electricity to it.
---
I can't wait to see how everything turns out. At this point I have most everything purchased, it just has not all been delivered. My next move is to paint all the walls white, then do the stencil when it arrives.
After the walls are done I can start to hang things up.
What do you think? What room are you redecorating right now?